How Incredible is the WHITE CLIFFS Mayfair™ Hair System?  Ask Jade-Louise.
"Bright Skies Ahead"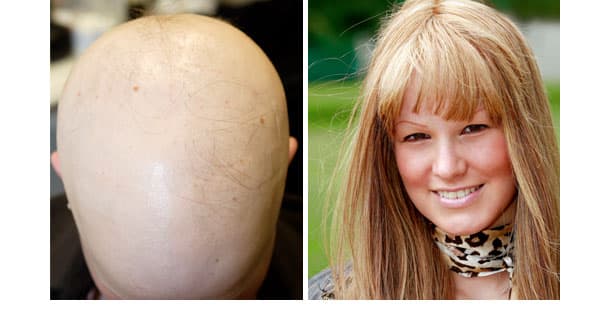 Jade is a beautiful, bright 17 year-old from London who has a love of life, lots and energy, and a desire to do things. Her current passion is hair dressing, in which she is currently training to be a hair stylist. "I love hair, because when you lose yours you realise how valuable and beautiful it really is- hair is very precious", says Jade.
Having lost her own hair at the tender age of 14, Jade well knows the reality of "you don't know what you have until it's gone". Like most Hair Loss cases, Jade has been through the roller coaster ride of trauma, confusion over what was happening, hope, frustration, and lack of information about her condition. "I started off with the Shingles and then glandular fever; and then within a very short period of time my hair started falling out. When I came back from a much needed-holiday after my illness, I started to notice that my front hair was getting thin which I thought was my fault from using hair clips. But, it just got worse until a large patch formed. Then things just progressed until all of my hair fell out within a year."
The Ordeal and a Truly Supporting Family…
Through Jade's entire ordeal of losing her hair, there has been one constant: her family's unconditional support. From day one, her Mother, Father, and brother gave every possible support to her and were determined to find what was wrong and get a cure no matter what. Their journey took them through the usual circle of specialist doctors, trychologists (including London's biggest), and "experts" that most Hair Loss sufferers go through with the same results: no real answers or solutions that worked. "After a year, I finally just had enough of expensive treatments and injections that did not work- I couldn't see anything at all coming from this. I simply put my foot down: no more of my family's hard earned money for things that do not work. No more waste of money! It was so frustrating, as all I wanted was my hair back and return to enjoying my life. Can no one help me?"
Welcome to WHITE CLIFFS…
Honestly, I had just about given up when we heard about WHITE CLIFFS and took a chance. My Dad, Mother and myself went to see them and we actually got listened to- and finally had answers that made sense, were real (honest), and offered real solutions. I felt that finally, after so much searching, someone really cared. I wanted my hair back on the condition that it looked totally natural, would allow me to live life to its fullest, and addressed the problem at hand (I wanted my hair back!). WHITE CLIFFS promised me this- and has kept its promise better than I could have imagined. I now have beautiful, silky, smooth hair with a hairline that is amazing. Now, I find it very hard to think of it not being my own hair… it is just there, blows in the wind, gets wet in the rain, and is just like my own hair would be, says Jade."
Back on Track to Enjoying Life Again…
The result for me has been getting my life back. I am no longer afraid of staying over at friends, I dance, go bowling, and am no longer afraid of going back to my love of swimming: all of which I lost when my hair fell out. I also into my dream career: currently training as a hair dresser. Indeed, I have come to realise how valuable hair is and what an art form it is… you express who you are through your hair. I also like to make
A New Life… The Test…
The real test for Jade came when she recently went on holiday to Egypt where the heat and sun are so powerful.  Jade put WHITE CLIFFS Mayfair Hair System to the full test: swimming, sunbathing, and living in it to the max for two weeks. The result? Jade is very happy and excited by the way it performed- "just like my own hair", she says. "It was amazing, and I am so very happy", says Jade.  People feel good through their hair by helping them to express who they are and looking their best. I also have my confidence back, no worries about wind coming along and blowing my hair, and I now have a boyfriend which really has change my life. After a long illness, and the frustration of not knowing what to do, I now have taken an action that has indeed bettered my life and put me on a positive course… I see a bright future full of good things and with my beautiful hair. Thanks WHITE CLIFFS.