How Incredible is the WHITE CLIFFS Mayfair™ Hair System?  Ask Jade Taylor.
"Trampolining is now a Hair Raising Experience for Alopecia Sufferer, 13"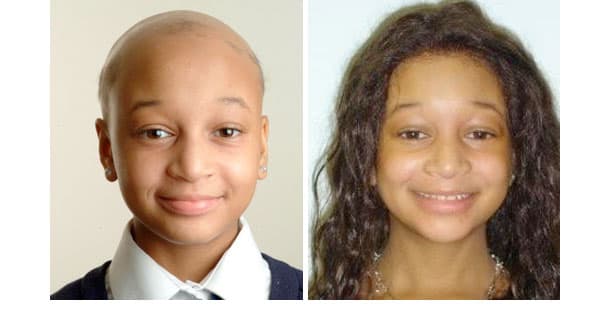 Local Mom Angie Taylor has seen thirteen-year-old daughter Jade transform from a shy and downcast little girl into an individual bursting with confidence. And it's all down to her hair. Jade, a sufferer of the distressing disease Alopecia Totalis (AT), or total loss of the hair on the scalp, has had a Hair Replacement system fitted by WHITE CLIFFS Hair Studio. Angie, from Grove Park, SE12, says: 'It's impossible to explain how much it has helped. She was like the girl from Jurassic Park the way she turned her head so stiffly because of the wig. With the system she can shake her head up and down and it makes no difference.'
Jade's custom-made non-surgical Hair Replacement has meant that she is able to look, feel and act like a normal young girl for the first time, as the system is undetectable to sight and touch, safe, effective and natural looking.
Alopecia can be highly distressing for its sufferers, especially where they are young people, and Jade had endured teasing and the almost inevitable lack of confidence as a result. School children are notoriously cruel and they did not make an exception for Jade, particularly as she was wearing an NHS wig that was ill-fitting because no children's wigs are provided by the National Health.
Jade: 'The system didn't feel like the old wig at all, that was painful as I had to pull it really tight because my head was smaller than the NHS wig. I had to pull it so tight it made imprints on my head. In PE, the ball bounced on my head and the wig would turn. I had to run off and fix it. And the fringe would never stay in the right place and it used to wobble when I was on the trampoline. Trampolining is my favourite thing in PE and when I jumped people could see under the wig. Now with the system I can jump really high which I could never do before. It's great because I could never do roly polys before and I had to sit out of the class.'
In fact, on the day of our interview, which took place on a special client filming day at WHITE CLIFFS Hair Studio, Angie said that she had never seen Jade so confident. It might have been the fact that Jade was a star model for WHITE CLIFFS and surrounded by other alopecia sufferers. But it was probably down to the fact that Jade's general self-assurance has soared since she has had her system fitted.
Jade recognises the change in herself: 'I think if I'd met someone my age when I started losing my hair it would have helped. It might have made the teasing at school a bit easier. Now when girls ask if it's my real hair I just say it is and they believe me.'