BLACK BEAUTY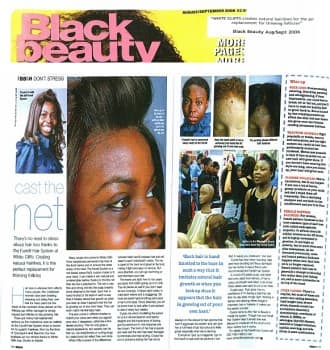 Black beauty     
Hair loss in whatever form affects many people. Afro-Caribbean woman have been braiding, weaving and styling their own hair for many years but the result of the constant stress placed on the follicles has damaged or simply caused the follicles to stop growing hair.
There are many hair replacement options on the market but none so realistic like Farrell Hair system which is known for it's realistic hairlines. Worn by the likes of Tyra banks and Beyonce, it's now available on our shows thanks to White Cliffs Hair in many places. Many people who come to White Cliffs Hair have experienced permanent hair loss at the front hairline and or around the sides' areas of the head. The Farrell System is a net-based weave that's custom-made to fit your head. It can create a very natural and undetectable hairline, thanks to the fine net that the hair is attached to. The net is very fine and strong and lets the scalp breathe once attached to the head. Each hair is hand knotted to the base in such a way that it imitates natural hair growth so when u look up close to it appears that the hair is growing out of your own head. They can even match the fine baby hairs.
The lace comes in different shades to match your colour and when put against your skin, it disappears, rather like a fine denier stocking. This not only gives natural appearances, but wearers can tie natural appearances, wearers can tie hair up, use strengtheners or curling longs to create looks that reflect their own style.
White Cliffs is aware of the differences between black and European hair and will adapt to each individual's needs. The net is taped at the back and glued at the front, making it light and easy to remove. But once attached, you can go swimming or even shampoo.
The weave unit lasts two to four years and stairs from euro 800 going up to euro 1,500. They do pieces as well you doesn't need all-over coverage. It takes eight weeks to make each weave and a staggering 150 hours are spent hand knotting each piece of hair to the base. Once attached, you will be shown how to look after it and advised to clean it every four weeks.
Crystal Joe who's modelling the system for us is a dancer/teacher and fashion designer and the importance of looking good is paramount in the industries she has chosen. The front of her hair is sparse and weak and the rest has been damaged by chemicals and heat styling. Crystal has a lot of problems styling her hair and is always on the lockout for hair options that won't aggravate the problems and can give her a full head of hair that looks and feels good especially when she is dancing.
'Every time I pick up a magazine, I go to the back to what hair solution I can find. It means you obsess,' she says. Crystal has tried micro-weaving, wigs and micro-bonding but these damaged her hair further. It was a friend who recommends the Farrell Hair System. A mould of crystal's scalp was taken and every detail from density of hair to colour and length was taken note of and these details were sent to LA to be made.
Crystals says, 'Hair gives me my confidence; if I'm having a bad hair day then my day does not go right. Working in fashion and dancing where image is important, hair is massive, it makes you the person you are.'