Hurrah!!! for my mummy's hair !!!..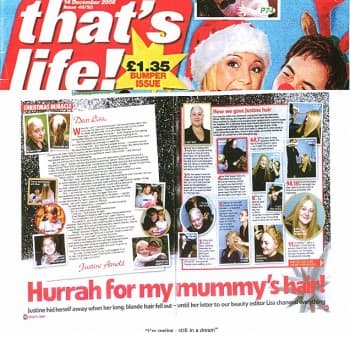 ( Justin hid herself away when her long, blonde hair fell out- until her letter to our beauty editor Lisa changed everything).
Dear Lisa,
Where do I start? I have alopecia and over the past three years most of my hair had fallen out. I've tried wearing wigs but they looked so cheap and awful I felt more of a freak than usual. These days, I avoid leaving my house – even hanging out the washing is traumatic because I feel everyone's looking and laughing at me. My mum runs errands for me, but if I have to go to the corner shop, I pull on a man's base full cap and keep my head low.
I'm so lost in life. I don't feel like a proper woman – or a good mummy. My daughter Megan is three, and loved going to nursery. But seeing the other, normal mums there made my spirits sink even lower and I had to stop taking her. My long, blonde tresses were always my best feature when I was a child – and playing at hairdressers was one of my favorite games.
But one morning Mum was brushing my hair, when she discovered a bald spot the size of a 50 piece. I was 11, already nervous about starting secondary school. What would the other girls say if they noticed? Mum and I were desperate, we tried every imaginable shampoo. But nothing worked. In fact, the bald spot grew to the size of an apple. Determined to keep it hidden. I pinned my hair firmly over the pink patch of scalp, smothered it with hairspray to keep it locked in place.
The girl at school enjoyed styling each other's hair but I wouldn't let anyone touch mine.' Mardy Justine – scared of spoiling your hairdo?' they taunted. But I care, anything was better than them Discovering the truth. It worked. No one at school realized. And thankfully my hair grew back six months later. I fell in love at 15, after seeing blue-eyed Justin working a night shift at a garage. I'd beg my older mate with cars to buy more petrol so I could catch a glimpse of him. Someone gave him my number, and before long we were an item.
Only –six months into our relationship – another apple-sized bald spot appeared at the back of my head. Not again!!! Not now… Terrified of losing Justin. I remembered all my old tricks – I pinned. Combed and styled my hair to cover the gap. But I couldn't go on hiding. Instead, I sat Justin down, spilled out the truth.
'My dad has alopecia too. I understand,' he told me gently. I was stunned – and delighted. But my insecurities soon came flooding back. 'I love you'. He'd whisper tenderly.
'Even though I'm looking my hair? I'd said, craving reassurances. 'You're beautiful, with or without hair,' Justin told me. Two years on, we moved in together. Soon, another bid patch appeared. But this time, I had something else to distract me- I was expecting. I was 18 by now and the pregnancy wasn't planned. Even so I was thrilled at the thought of becoming a mum.
Megan was born a healthy 7 lb 9 oz. By the time she was three months old, my hair was falling out in earnest. Great clumps of it disappeared – and it didn't grow back this time.
I hid beneath a baseball cap, tried creams, lotions – even spent a humiliating two hours with beef dripping smeared over my scalp after someone suggested it could help. But it's been nearly three years now and I've given up hope my hair ever growing back.
So, Lisa is there anything u could suggest or do to help me achieve my goal of feeling like a young and attractive 22-year old woman?
Justine Arnold.