Linda toes the party line..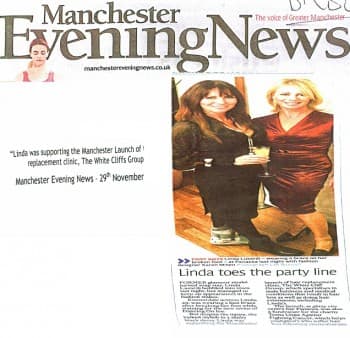 Linda toes the party line
Former glamour model turned soap star, Linda Lusardi hobbled into town last night, but managed to keep up appearances in the fashion stakes. Emmerdale actress Linda, 49, was wearing a foot brace after breaking her foot while training for the new series of Dancing on Ice.
But despite the injury, she looked stylish in a slinky black dress. Linda was supporting the Manchester launch of hair replacement clinic, The White Cliff Group, which specialises in male baldness and medical conditions that result in hair loss as well as doing hair extensions, including Linda's.
The launch, at glitzy city centre bar Panacea, was also a fundraiser for the charity Teens Unite against Fighting Cancer, which helps youngsters who suffer hair loss following chemotherapy.