TRAPPED – Jennifer Brown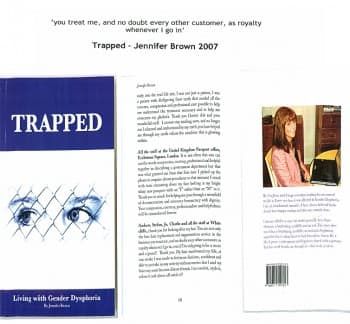 Jennifer Brown
Early into the real life test, I was not just a patient, I was a patient with disgusting front teeth that needed all the concern, compassion and professional care possible to help me understand the treatment necessary and to help me overcome my phobia's. Thank you Doctor Ash and your wonderful staff. I cannot stop smiling now, and now no longer am I ashamed and embarrassed by my teeth; you have helped me through my smile release the sunshine that is glowing within.
All the staff at the United Kingdom Passport office, Ecclestone Square, London. It is not often that one can together in describing a government department but that was what greeted me from that first time I picked up the phone to enquire about procedures to that moment I stood with tears streaming down my face looking at my bright shiny new passport with an "F" rather than an "M" in it. Thank you so much for helping me passes through a minefield of documentation and necessary bureaucracy with dignity. Your compassion, courtesy, professionalism and helpfulness will be remembered forever.
Andrew, Stefan, Jo, Charlie and all the staff at White Cliffs Hair Solutions. Thank you for looking after my hair. You are not only the best hair replacement and augmentation service in the business you treat me, and no doubt every other customer, as royalty whenever I go in, even if I'm only going in for a moan and a groan!! Thank you. My hair transformed my life, at one stroke I was made to feel more feminine, confident and able to partake in any activity without worries that I and my hair may soon become distant friends. I can comb it, style it, colour it and above all swish it!!