How Incredible is the WHITE CLIFFS Mayfair™ Hair System?  Ask Crystal Joe.
"Seeing is Believing"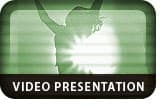 Crystal is a client of African descent.  She was recommended by a friend and is more than happy to talk about all her hair problems and solutions she has tried in her long maze of discovering the best solution to Hair Loss. She had a WHITE CLIFFS Hair System designed for her back in March 2005 and since then has shaved her existing hair as it was in very bad condition.  She has decided to start growing her own hair back starting over again.
Crystal Joe is a young 20-year-old dancer and dance teacher and also an up and coming fashion designer. She has chemically damaged, broken and weak hair. Her front hairline is also very sparse and weak. Crystal has had a lot of problems styling her hair has always looked for a solution that won't damage her existing hair but would also give her a full head of hair that looks natural and feels great, especially when she is dancing.
At the moment she is fed up with having to apply so many chemicals and so much heat to style her hair.  She just can't 'wash and go' without having to worry that her hair which seems to frizz up when she is out.  She just can't afford to keep going to have her hair blow-dried. Her hairline is the major problem.  It has gotten sparse over a period of time because of the constant stress put on it through styling and she is very conscious of it as it is not an area that she can easily cover up with weaves or braids. It is the first thing other people see.
"Hair gives me my confidence.  If I am having a bad hair day then my day does not go right all day."
Crystal wants more movable hair.  Something that moves when she dances like Beyonce.  Maybe something even more European with a natural hairline. She wants to choose colors without damaging her own hair and create styles however she pleases. She says, "Working in fashion and dancing where image is important, hair is massive.  It makes you the person you are.  It can either build or kill your confidence".
Crystal has tried everything including micro weaving, wigs and micro bonding. In fact she thought that if she paid more for a product, she would achieve better results.  She went to a Hair Loss studio in Knightsbridge and the finished result was nothing spectacular.  It didn't last very long and her hair was more damaged thereafter.  She has tried hair supplements like 'Natures way for Hair' but there wasn't any positive change. All solutions she has tried have always been temporary solutions and she wants something that can last longer and give a natural result.
"Every time I pick up a magazine I go to the back page to see what other hair solutions I can find.  Hair Loss makes you obsessed," she says.
A friend who was a client recommended her to WHITE CLIFFS. Since then she has found new confidence that has enabled her to enjoy long beautiful hair whilst dancing her way to New York.