BUSINESS LINE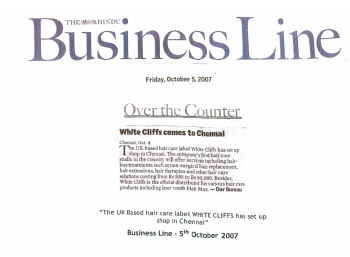 Business line
"White Cliffs comes to Chennai ".
The Uk–based hair care label White Cliffs has setup shop in Chennai. The company's first hair care studio in the country will offer services including hair-loss treatments suck as non-surgical hair replacement, hair extensions, hair the rapier and other hair care solutions costing from Rs 500 to Rs 60,000. Besides, White Cliffs is the official distributor for various hair care products including laser comb Hair Max. –Our Bureau
WHITE CLIFFS Hair Studio.