DAILY MAIL…AS I WASHED MY HAIR, CLUMPS CAME OFF IN MY HANDS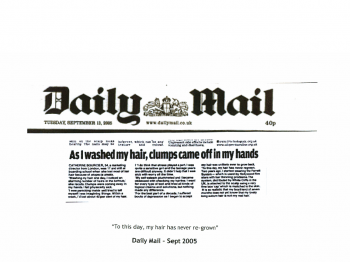 "AS I WASHED MY HAIR, CLUMPS CAME OFF IN MY HANDS"
CATHERINE BOURCIER, 34, a marketing director from London, was 17 and still at boarding school when she lost most of her hair because of alopecia aerate.
'Washing my hair one day, I noticed an alarming number of hairs in the bathtub', she recalls. Champs were pouring away in my hands. I felt physically sick. 'I was panicking inside, tried to tell myself I was imagining things. Within a week, I'd lost about 40 percent of my hair.
I'll do think that stress played a part. I was quite a sensitive girl and the teenage years are difficult anyway. It didn't help that I was sick with worry all the times.
"My self-esteem plummeted and I became obelised with checking my hairs lose. I went for every type of test and tried all kinds of topical creams and solutions, but nothing made any difference.
For the best part of a decade, I suffered bouts of depression as I began to accept my hair was unlikely ever to grow back. "To this day, my hair has never regrown. Two years ago, I started wearing the Farrell system – which is used by Hollywood film stars with hair thinning problems. The system, distributed by WHITE CLIFFS in the UK, is attached to the scalp using a very fine lace 'cap' which is matched to the skin. It's so realistic that my boyfriend of seven months does not yet know that my lovely long hair is not my real hair'.
"To this day, my hair has never re-grown"
WHITE CLIFFS Hair Studio.