How My Brothers Became My HAIROS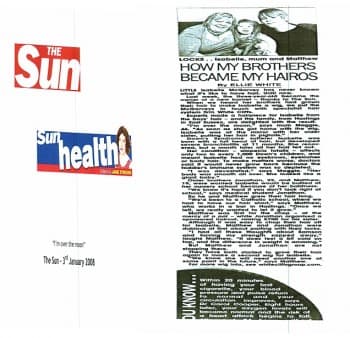 LOCKS…ISABELLE, MUM AND MATHEW
HOW MY BROTHERS BECAME MY HAIROS
                                        BY ELLIE WHITE
LITTLE Isabelle McGarvey has never known what it's like to have hair. Until now. Last week, the three-year-old became the owner of a new Barnett – thanks to The Sun.
When we heard her brothers had grown their hair to make Isabelle a wig, we put the McGarvey in touch with specialist hair system firm White Cliffs. Experts made a hair place for Isabelle from the boys' hair – and the family, from Hastings in East Sussex, are delighted with the result.
"I'm over the moon, "says mum Maggie, 46. "As soon as she got home with her older sister, putting her hair in pigtails." Down's syndrome sufferer Isabelle was born with a full head of hair, but developed severe bronchiolitis at 11 months. She recovered, but a month later all her hair fell out.
Hair condition – alopecia totals – affects only two in every 1,000 down's children, and meant Isabelle had no eyebrows, eyelashes' or body hair. To make matters worse, doctors sold it would never grow back because the toddler's immune system was so depleted.
"I was devastated," says Maggie. "Her body was smooth all over. She looked like a giant baby."
Older brothers Jonathan, 22, and Mathew, 19, were worried Isabelle would be bullied at her nursery school because of her baldness. "We know it's hard if you don't look right at school," says medical student Jonathan. So he and Mathew grew their hair long.
"We'd been to a catholic school, where we had to have our hair short," says Mathew, who works in a bar in Hastings. "Once we left, we really wanted to let it grow." Mathew was first for the cop – at the mercy of a pal – while Jonathan organised a sponsored haircut, raising Euro 700 for his sister.
Although it was easy to chop their hair off for Isabelle, Mathew and Jonathan were dubious at first about parting with their locks. "I had all these thoughts about Samson and having my strength sapped away," laughs Mathew. "It does feel a bit cold on top, and the Mathew. "It does feel a bit cold on top, and the differences in weight are amazing." But Mathew and Jonathan are not stopping there.
They have both started to grow their hair again to make a second wig for Isabelle. "We know she will need another one at some point in the future," says Mathew. For more wigs into, see Whitecliffshairsolutions.com.