"THE HINDU"..Article on WhiteCliffsHair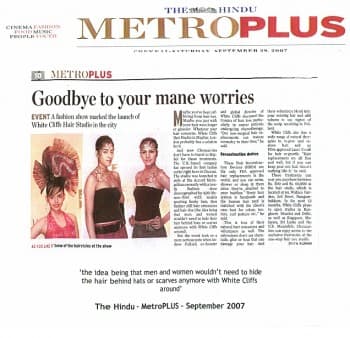 Goodbye to your mane worries  
Maybe you've been suffering from hair loss. Maybe you just with your hair very longer or glossier. Whatever your hair concerns White Cliffs Hair Studio in Mayfair, London probably has a solution for it and now in Chennai-it's don't have to travel to Mayfair for those treatments.  The U.K.-based company has opened its first Indian outlet right here in Chennai. the studio was launched  in style at the accord metropolitan recently with a trendy fashion show choreographed by Ajith menon – first with models sporting funky hats, then funkier hair extensions and hair dos (the idea being that men and women wouldn't need to hide their hair behind hats or scarves anymore with White Cliffs around).
But the event took on a more serious note when Andrew pollard, co-founder and global director of White Cliffs discussed the trauma of hair loss, particularly in cancer patients undergoing chemotherapy. "Our non-surgical hair replacements can restore normalcy to their lives," he said.
Reconstruction devices
These Hair reconstruction devices (HRDs) are the only FDA approved hair replacements in the world, and you can swim, shower or sleep in them since they're attached to your hairline. "Every hair system is handmade and the human hair is matched with the client's own hair for color texture, curl pattern etc.," he said.
This is true of their natural hair extensions and volumizers as well. The extensions don't use chemicals, glue or heat that can damage your hair, and their volumizers blend into your existing hair and add volume to any region of the scalp, according to pollard.
White Cliffs also has a wide range of natural therapies to re-grow and re-store hair, and an FDA-approved Laser Comb hair re-growth. "Hair replacements are all fine and well, but if you can keep your own hair,' there's nothing like it," he said.
These treatments can cost you anywhere between Rs.500 and Rs.60,000 at the hair studio, which is located at 6A, Wallace Garden , 3rd Street , Nungambakkam. In the next 12 months, White Cliffs plans to open studios in Bangalore, Mumbai and Delhi, as well as Singapore, Malaysia, Srilanka and the U.S. Meanwhile, Chennai-it's can enjoy access to the exclusive treatments at the one-stop hair care studio.